TR and I have decided to do some pumpkin carving this week and I found some adorable designs over on Southern Living's website: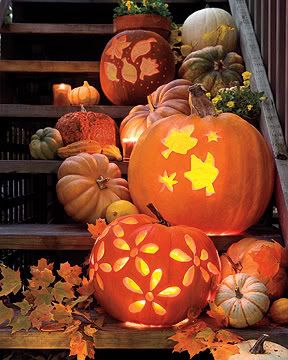 I really like the bottom pumpkin with the floral design and also the fall leaves pumpkin. TR is probably going for a really scary design, so I'll have to put my sweet pumpkins on the other side of the porch. :)
I also really love the look of painted pumpkins for centerpieces or Thanksgiving decor (picture below). Although I think we can all slap some paint on a pumpkin without detailed instructions, Martha Stewart offers video directions for making these
gorgeous glitter gourds
:
I might just have to make both kinds of pumpkin decorations!