J. Crew Wedding Gowns!
[10.10.08 NOTE: I had to modify this post due to broken links on J. Crew's website!]

I have always loved the elegant simplicity that is a
J. Crew wedding gown
. In the many wedding magazines that I pored over even before I was engaged (yes, I was that girl), I would dog-ear the pages that contained wedding dresses I might possibly want when I eventually walked down the aisle. Never once did I see a page-sized ad from J. Crew touting their wonderful gowns ~ they are too modest! ~ but their dresses were always included in the magazine's gown photo shoots. You know, the sections of the magazine where all of the models are wearing beautiful wedding dresses and climbing a tree or doing something else that is absurd and artistic. These photoshoots made me fall in love with J. Crew wedding gowns.
Here are my favorites this season:

Meet Lucinda...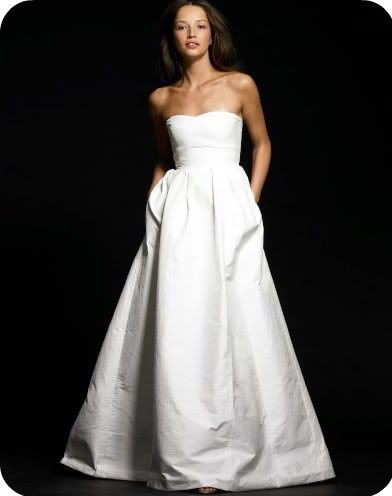 And meet Nathalie (love the berry trimmings!)...
Although Lucinda is $2k+ and unaffordable to anyone with my budget (but splurge-worthy nontheless), Nathalie is less than $1k!