Oh how I love Martha Stewart... How does she (i.e. her team of idea people) think of such interesting & fun ideas?!
Martha just posted a craft tutorial for how to make Halloween Candy Topiaries and I am totally inspired. I really want to make one or two for my door step so as to make my neighbors jealous of my creativity. ;)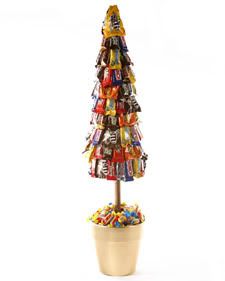 I decided to search Martha's website for more topiary ideas and found this:
Peppermint candy topiaries! Not to be limited to peppermint candies, I think ANY candy topiary in your wedding colors would make an excellent addition to a candy bar (a la Ashley & Chris), or as a super-sweet centerpiece.