By now, you should know that I love Fall-time. It's pretty obvious that I have a thing for the colors, the leaves, the crispy weather...
First off: Here is the setting for the wedding. Note the haystacks!
And could their escort cards be any simpler (but still adorable)?!
Using table letters instead of table numbers is a great way to mix things up ~ I love the typeface and colors she chose (the bride went to school for graphic design ~ a degree that becomes extremely useful when planning a wedding)!
They even dressed up their reception tent by adding (my favorite) paper lanterns in their wedding colors.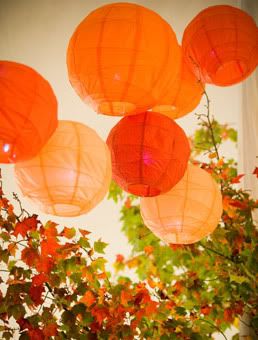 {
Image Source
for all pics in this post}