As many of you know, I
Twitter
. And because I Twitter, I was lucky enough to find and follow Ian McGraw: co-owner (with his wife) of
Veil & Train
, which offers wedding photography, bridal makeup, bridal hair & personal training; based out of London, England. Take a second to view their
blog
and
website
!

Anywho, last week, Veil & Train posted about
Night Sky Lanterns
on their blog and I was completely blown away! I will let this picture describe what Night Sky Lanterns look like: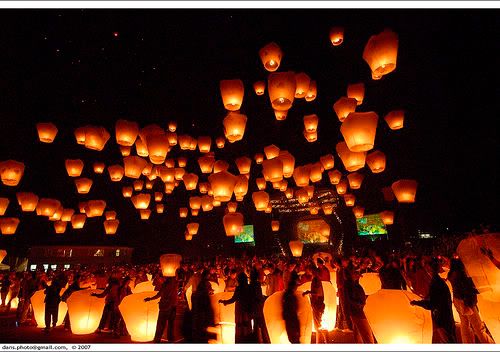 The lanterns are environmentally friendly (friendlier than fireworks!!) and are made of biodegradeable materials (don't believe me? check this
FAQ
for more info). Once released, the lanterns will fly for about 5-10 minutes, creating a BEAUTIFUL photo op in the night sky!!!
You could ask guests to write wishes for the bride & groom on the lanterns & then release them to the sky at the end of the night. I wish I could have done this for our wedding!
To purchase, visit
Sky Lanterns 2U's online store
. The white lanterns are most popular, and you can purchase 100 for 151 GBP (United Kingdom Pounds), or about $223 USD (based on today's exchange rate).