The latest
Martha Stewart Living
magazine contains a segment on holiday wreaths. While flipping through the pages of this segment, I flipped right past this picture: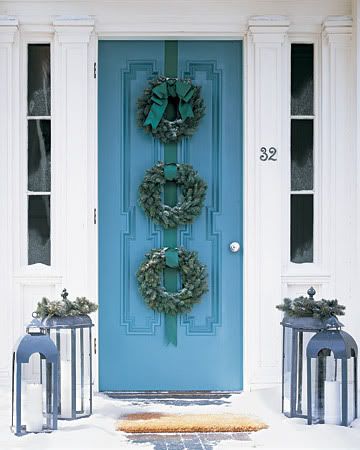 At first glance, I didn't think much of this picture, and I'm not sure why. But over the last week or so, whenever I close my eyes, I envision this festive winter-y doorway! Call me crazy, but this color palette has totally struck me and I am now completely enamored with teal & forest green hues.
The colors are just a smidge apart in the color spectrum, which makes them perfectly complimentary to one another. The stark contrast of the white door frame, makes the door & wreaths really pop.
Just think of how amazing a color palette of teal + forest green + white or cream would be! Sophisticated, yet current.
Using the
DeGraeve color palette generator
, I created this palette:
Beware! This is another tool you could mess with all day!

Anyways, you could bring this palette with you when picking out bridesmaid dresses, flowers, linens, invitations... I could go on and on, but I won't!