Oh, Martha, how you inspire me so...
I just saw this easy DIY project on
Martha Stewart
's website in a
Christmas Table Settings
photo gallery: Glitter-covered candles.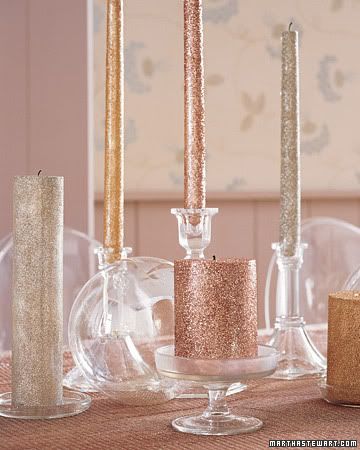 Directions: Lay candles in a box, spray with adhesive, then cover with glitter. Let dry for a few hours or overnight.
I think a centerpiece consisting of 4-5 various heighth glitter-covered pillar candles would be so chic and simple. Candlelight makes everyone's complexion look better and adds a tough of romance to the atmosphere. What's not to love about candlelight?! The glitter adds a little glam to an otherwise super-simple centerpiece.
You can buy pillar candles in bulk from sites like
Candles 4 Less
,
Candles Just Online
(huge sale on unscented pillars right now!), and
Quick Candles
. Glitter and spray adhesive/craft glue can be bought at just about any craft store for relatively low prices.
NOTE: Always opt for unscented candles. Not only could scented candles bother some of your guests' noses, but scented candles muddle the yummy smells of the food you serve and could even affect how the food tastes. PLUS, unscented candles are generally cheaper than scented.