I have admired this New York State wedding for over a month and have yet to post about it... since I've got some spare time today, I just had to pick out a few of my favorite photos. The details and cheery colors are so amazing!
Ceremony location... Pomanders are the cutest floral arrangements ever. I love them as aisle-liners, too.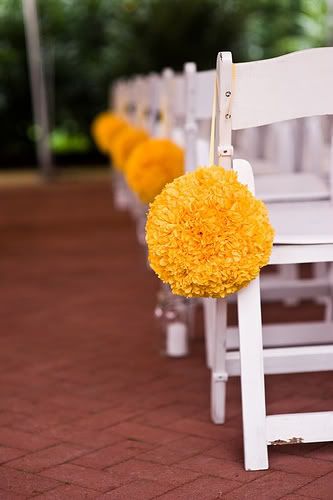 You all know by now how much I love paper lanterns... and I'm starting to prefer long tables over round tables for receptions...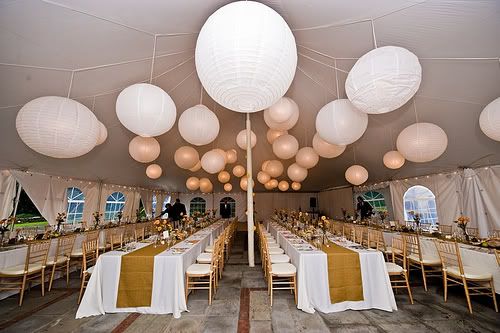 A beautiful rendition of the branch-seating-card display... Check out that calligraphy! I wish I could have splurged on having all of my paper items done by a calligrapher. It just adds a very distinct touch of personalization to everything!
Favors for guests: Homemade syrups with funky cloth squares covering the lids...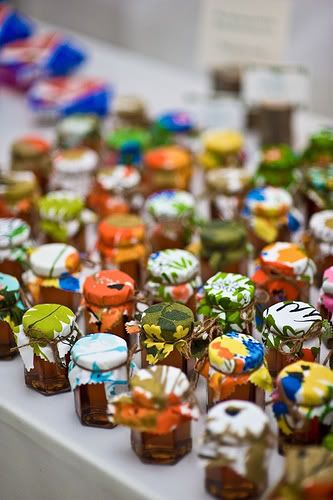 Table setting... Totally love the "groom" tag pinned to the glass. I did this for my Thanksgiving table setting!
Table numbers & menu... the turquoise ink really pops against the soft orange of the dahlia. Speaking of the dahlia: who says a centerpiece has to be elaborate and consist of tons of flowers?? The tiny tree trunks and clear glass vase for the bunch of flowers get the job done simply and (probably) cost-effectively!
This wedding is just beautiful!! I absolutely ADORE all of the personal touches.